A Case Story by Katherine Accettura, Southern Illinois Volunteer

Header photo: Katherine, Travis Neal, and Chris Benda examine the flowers of the state threatened squirting cucumber (Melothria pendula). Photo by Bobby Samat.
What began as a fascination with shooting photos of "pretty flowers" quickly turned into an obsession with monitoring plants that are native to Illinois, in particular those which are threatened and endangered (T&E) and rare.
I've been an avid hiker for years, but I would normally stick to the trails. A couple of years ago, I found myself almost consumed with the immense variety of species blooming in southern Illinois each season. Searching for these plants began to take me deeper into the woods, more and more often, with no trail in sight.
I soon realized that I needed to learn more about what makes our local forests so special. A friend and local botanist, Travis Neal was happy to help me ID photos of the plants I found. He also suggested the Illinois Wildflowers book by Don Kurz as an introductory guide.
I also joined the Illinois Botany group on Facebook, where I connected with Chris Benda, other botanists, and a variety of plant enthusiasts in the state. I take pride in sharing my best photographs in that group, which I shoot with a Canon DSLR.
I also became a member of Illinois Native Plant Society this year, and I absolutely love being part of a bigger movement and receiving the newsletter each month.
This past summer, I enrolled in the Flora of Southern Illinois (PLB 451) course as a community listener, offered by Chris Benda at SIU, and my eyes were finally wide open. This was one of my favorite courses I ever completed. I now know scientific names, common names, and habitats of a large number of species that are native to Illinois and beyond.
I graduated from SIU over a decade ago with an M.S. in Media and Communications, and worked as a photographer and social media influencer for years. I felt very welcomed among this incredible new community of people I hold in very high regard. I also coordinate the Makanda Mushroom Festival, and hiking for mushrooms often encourages deeper exploration of the forest too.
As soon as the opportunity arose to become a Plants of Concern (POC) Community Scientist this year, I immediately jumped at the chance. I am still in awe of the incredible opportunities that POC has offered me. Sure, some of the hikes were challenging, but the thrill of possibly finding such important plants and exploring the most unique counties the state has to offer, has far outweighed any discomfort I felt from the heat and humidity of our southern Illinois summers. I am honored to have worked beside Chris Benda, Travis Neal, and Nicholas Seaton to track plant species and complete site files for such an incredible program like POC.
I am empowered beyond belief, both mentally and physically, from volunteering my time to such a fantastic program. Some of the most memorable species I have helped track as a Community Scientist for Plants of Concern include, but are not limited to, Platanthera flava var. flava (tubercled orchid), Heteranthera reniformis (kidneyleaf mud plantain), and Hexalectris spicata (crested coralroot orchid), the latter being a 47-year fail to find until this year!
I am also a volunteer with Friends of Illinois Nature Preserves, a nonprofit organized by people who love, support, and care for Illinois Nature Preserves. I want to extend my thanks and gratitude to all those who live their lives to monitor, protect and maintain the gorgeous state we call home.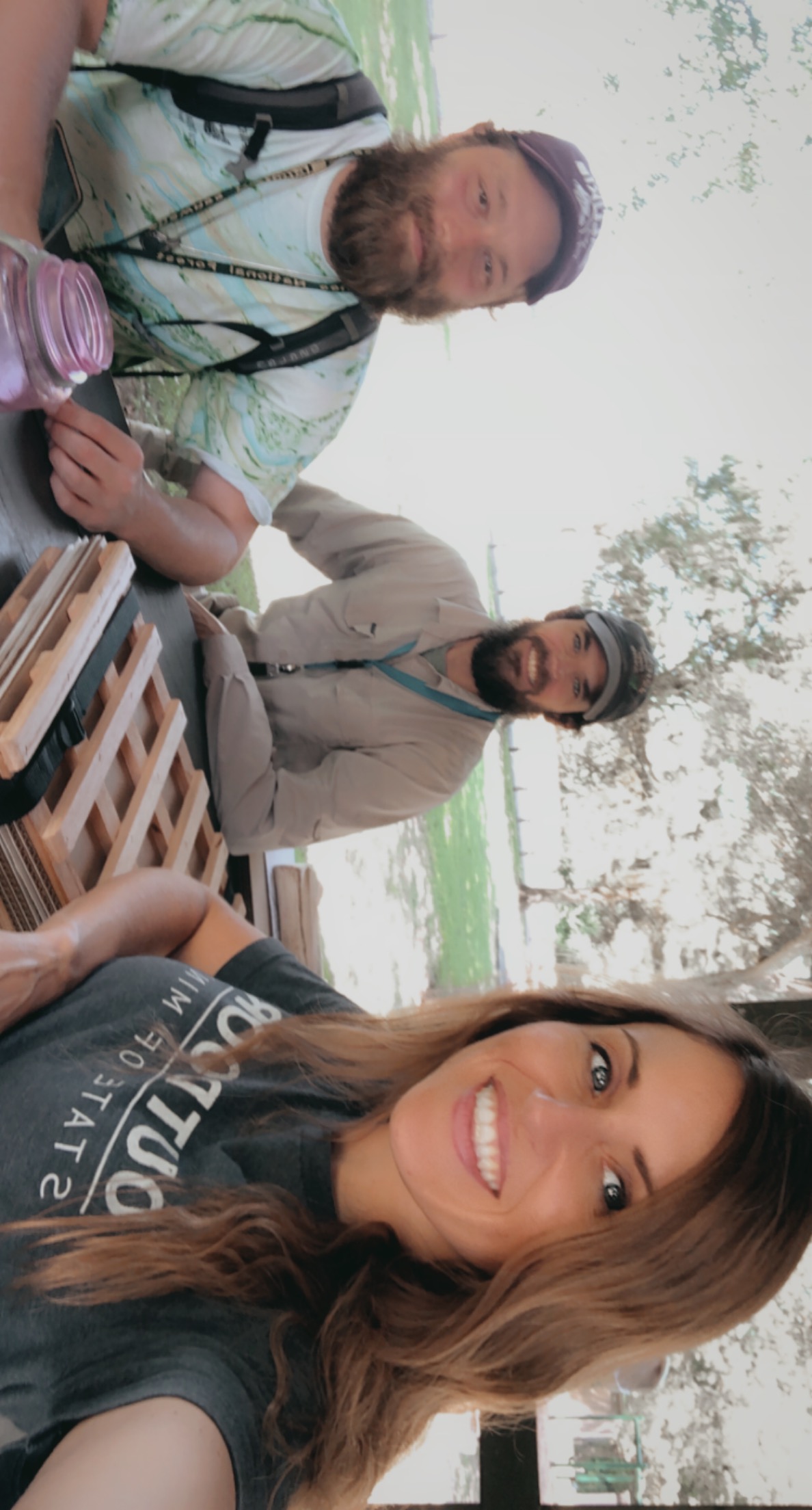 Travis Neal, Chris Benda, and Katherine Accettura. Photo by Katherine Accettura.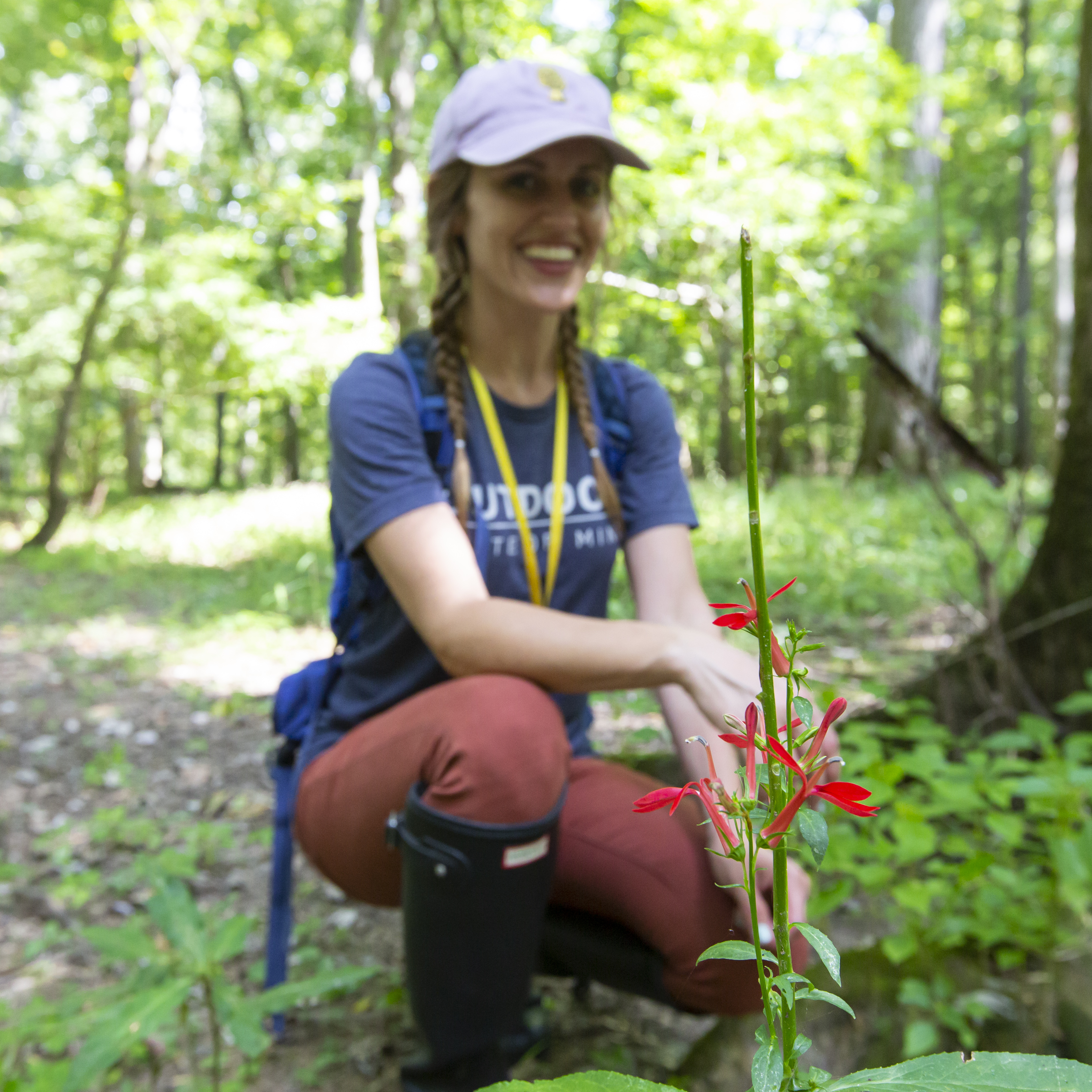 Katherine Accettura. Photo by Bobby Samat.